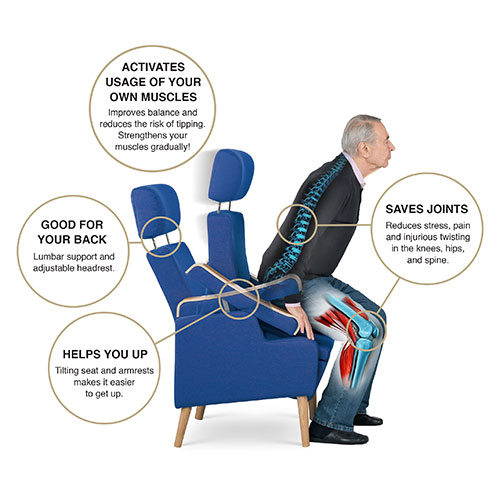 Armi Activechair is available in three models
Armi Design
Now Armi has Charm!
The new Armi Design -model is designed by internationally recognized interior designer and architect Tapio Anttila
DOWNLOAD THE BROCHURE
Armi Style

Tapio Anttila has designed the latest addition to the Armi family, Armi Style. It's equipped with a rotating base. In addition to the default properties of Armi with added rotation ability Armi Style also adds a slight swivel effect to the back support.
DOWNLOAD PRODUCT CARD
Armi Classic
The traditional Armi Activechair model is now called Armi Classic!
Armi Classic is both a functional and comfortable piece of furniture for your home and an active exercise tool. Armi is an ergonomic device, powered solely by it's user.
DOWNLOAD THE BROCHURE
Finnish

Armi Activechair is a Finnish innovation that eases the life of senior citizen

Safe

Now you are able to stand up easily. The chair's inclining seat and mechanic of the armrests help you get up with ease.

Durable

Years of research and development.
Adaptive

Adjustable neck rest, legs height, A wide selection of upholstery and colours.

Exersize tool

Strengthens the muscles and improves balance.

Easy chair

A functional, comfortable piece of furniture for your home.
SUPPORTS
The armrests and the tilting seat help the occupant to get up. The chair's mechanism guides and assists him or her to get up independently and with minimum effort, by utilizing the biomechanics of the human body. The overall strength of the body, and in particular that of the buttocks and lower limbs, is put to full use. This enables a person with muscle weakness or problems with the lower limb joints to independently get up from the chair.
LIGHTENS
Armi lightens the physical burden on the nursing staff in care homes when helping an elderly person in poor health to get up from the chair. The mechanism of the chair guides and facilitates getting up, by utilizing the elderly person's own resources.
EXERCIZES
Armi enables a sitting person to exercise as they get up, irrespective of possible weaknesses in the lower limb muscles. This improves balance when standing or walking, and thus enhances their functional ability. There will also be fewer falls.
ACTIVATES
According to scientific research, long-term sitting predisposes us to different chronic diseases, like cardiovascular diseases, type 2 diabetes and diseases of the locomotor system. The only methods of preventing these long-term injuries are movement and periodical breaks from sitting. A chair, which helps you to get up and supports your activity, will also motivate you to get up. An activating chair is useful in preventing injuries caused by long-term sitting, because its properties can also be utilized in short exercise sessions.
PREVENTS
Armi Activechair also helps you to maintain your ability to move, and to improve your muscular strength and balance. -By exercising with the help of Armi you will remain in good, active condition longer. The chair can also be used as a tool for group exercise.
The use of Armi Active Chair is easy and safe!