Armi is also highly suitable for retirement homes and elderly care centers.
Did you know that Armi Activechair is also highly suitable for service housing? It is an excellent choice for retirement homes and elderly care centers. Armi Activechair is CE-marked medical device.
In addition to Armi's own care fabrics, they can also be upholstered into an integral part of the place's other care furniture and interior design solution.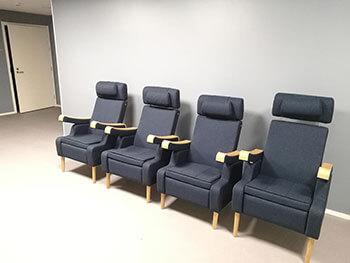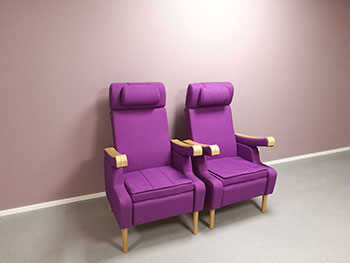 10 Reasons to get Armis for service housing
---
Armi rehabilitates and helps to get up from the chair.

The mechanics of Armi Activechair also makes it an excellent tool for exercising your lower limb, forearm and abdominal muscles.

Armi Activechair is ergonomic and provides excellent seating comfort.

Maintains physical activity and improves muscular fitness, balance and walking ability, and reduces the risk of tipping. Physical activity can have a significant impact on the ability of the elderly to function, to cope independently, to prevent illnesses and to improve the quality of life.

Armi is a medical device, CE approved. Armi Activechair can be useful if you have knee, hip, or back problems, osteoarthritis, rheumatism, general weakness, diabetes, MS, Parkinson's disease, paralysis, other physical disabilities or urinary incontinence. Armi can help and ease your life before and after various surgeries.

Armi is durable, safe and easy to care chair for welface and healthcare. Armi Activechairs for retirement homes and public areas are supplied with a care fabric. Care fabric is durable, dirt resistant, antibacterial, liquid impermeable and fire safe. From the same fabric, you get stylish, practical and discreet protection coverings.

Raised senior chairs do not guide the ascending person to the natural ascending position, and in many cases the person's feet do not reach the floor when sitting in a chair. The intent for the Armi Activechair is that your feet are firmly on the ground and that the person does not need to sit too high in order to get up.

Lift up chairs with external power (electricity, compressed air) diminish performance because self-power is not used for ascension, unlike the Armi Activechair, which makes ascension more efficient, easier and painless. Unlike armchairs with external power, the Armi Activechair increases your performance.

Armi Activechair also facilitates the work of care and nursing staff. Armi lightens the work of the personnel and also frees the staff for other tasks. Ready-made programs has been developed for Armi that can be utilized in rehabilitation. Physiotherapist can also use Armi to rehabilitate their clients.

Flexible payment terms including leasing or rental. A quick and easy way to complete your purchase. Fleet renewal is convenient. Does not bind capital. Facilitates financial planning and budgeting. Tax deductible. The right to deduct VAT on rental costs.
Who benefits from Armi?
Armi is beneficial e.g. for people with
old age
weak muscle power
osteoarthritis
knee, hip, or back problems
diabetes
Parkinson
MS-disease
urinary incontinence
rheumatism
and to ease life before and after various surgeries.